By: Sofia Tate
Photos by: Samantha Lee
It shouldn't be a surprise that after spending only a month at Georgetown, my shopping addiction has grown considerably. M Street and Wisconsin Ave. are flooded with my favorite stores, and that's not even taking into account the cute boutiques on 14th street and DuPont. Despite the spike in impulse purchases, I have started to seek out sales wherever I shop. A few weeks ago, after strolling into the Lululemon on M street (which was admittedly not the brightest idea) I took a glance at one price tag and immediately cringed. I promptly turned to the saleswoman nearby and asked her if there were any sales I could look forward to in the near future. She informed me of The Clearing, an event that they apparently hold every year but for whatever reason do not advertise very much. After marking it down in my calendar and spreading the word to a few people back on campus, the planning began.
The doors would open at 7am on Saturday, September 30th. This meant we needed to arrive at least ten minutes early to be towards the front of the line, right? Wrong. After dragging myself out of bed at 6:15 and arriving by 6:50, the line stretched down the street and around the corner, continuing to lengthen by the second. We rushed to squeeze ourselves between the Lulu-clad yoga moms and Soulcycle junkies, all working out their shopping strategies. When the doors opened, we flooded in and searched for our sizes.
My only plan had been to get a few things in my size, and then to maybe search for things in my sister's size after she had guilted me into shopping for her. This plan was promptly flung out the window when I headed upstairs after grabbing a few things for myself, only to find out that the racks in my sister's size were cleaned out only fifteen minutes after the doors had opened. People were in every corner, trying on clothes behind the makeshift curtains their friends held. The discarded clothes were crumpled all over the floor, and hangers had become a hazard.
After feeling like I had found a good amount of clothing, I filed into the checkout line to evaluate how much damage I had done, and how much money I had saved. The prices of each type of clothing was set and posted on multiple poster boards around the store. Even still, I anxiously waited to hear my total. For the two pairs of leggings, two pairs of shorts, one sweatshirt, and six tops I bought for myself and my sister, it totaled out at $450. After doing some math from the original tags back in my room, the original total would have been $838, meaning I saved $388. So I would say all in all, it was absolutely worth it. The only thing I would have changed about the day would have been to go in later. The sale lasted all day; not only did the store still have items left at 3 pm, but they were even better than the first. I came back a little later to take some photos, and although the complementary coffee stations and macaroons had been removed from the morning wave, the racks were completely full and had even better options than at 7 am. I had to force myself to look away to avoid spending any more than I already had.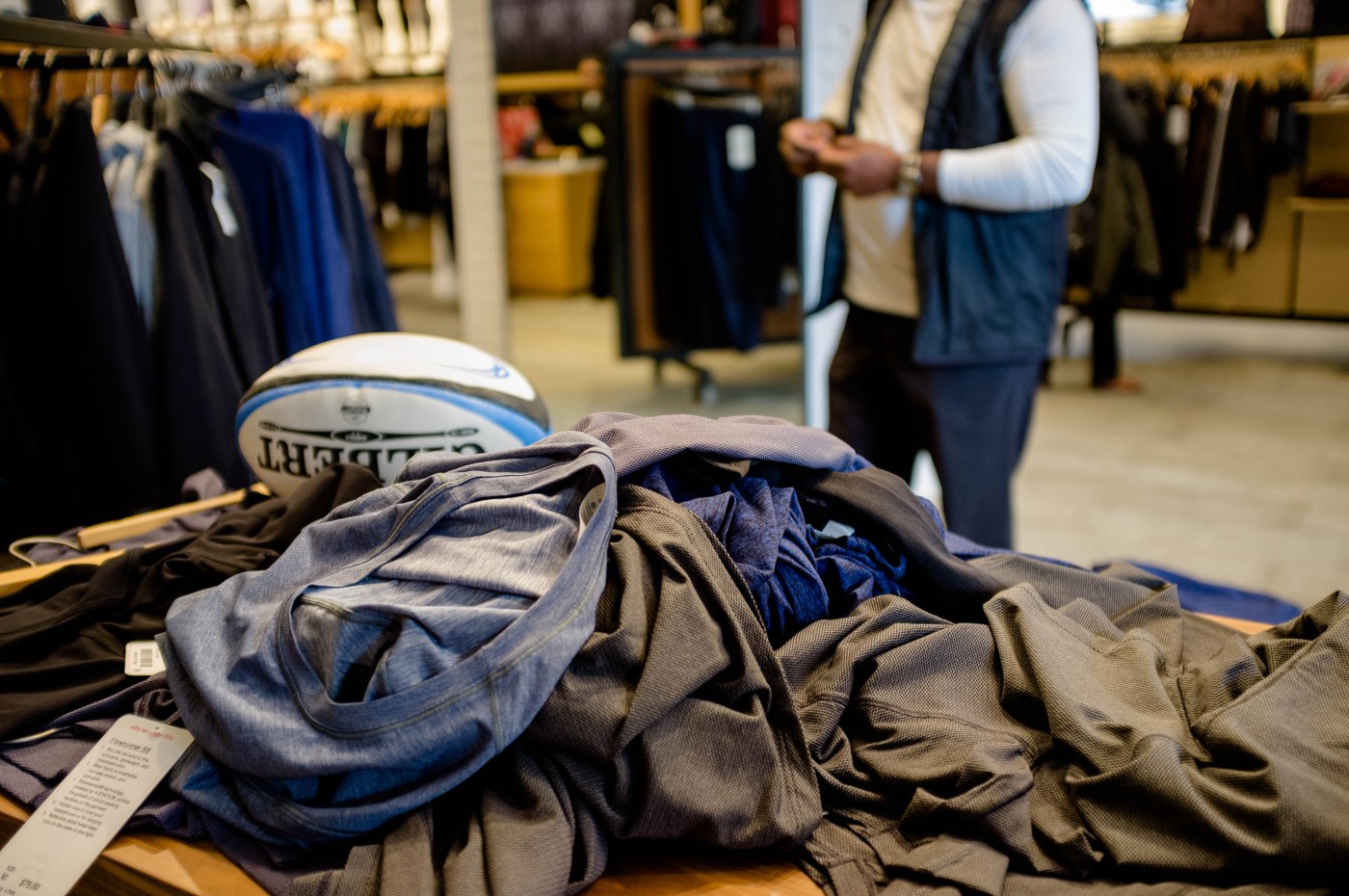 After my successful Saturday, I can say with confidence that The Clearing will become a permanent and heavily celebrated holiday for as long as I live in the DC area. I would strongly recommend it to anyone who enjoys spending excessive amounts of money on workout clothes they don't really need, but absolutely want. Next time though, I'll definitely come during the afternoon as I prefer to try on clothes in a real dressing room, and enjoy shopping without three other women in my personal bubble, all reaching for the same pair of leggings.
SOFIA TATE is a freshman in the College who spends large amounts of time watching food videos and memorizing Pitbull songs instead of doing her work. She loves turtlenecks, and enjoys watching excessively dramatic teen shows on ABC family. Share this:
Like this:Like Loading... Related Posted in Fashion Fitness Georgetown/DC Lifestyle and Tagged Fashion fitness lululemon Samantha Lee Sofia Tate The Clearing