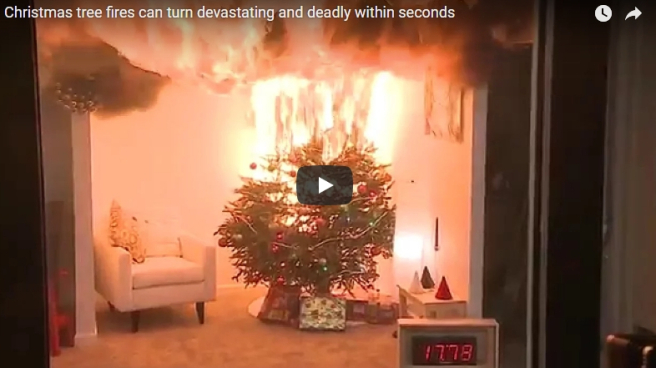 by Kristin Bigda
(Please note, the current edition of NFPA 1 is now the 2018 edition.  This new edition is available to view online for free at www.nfpa.org/1.  All future Fire Code Friday posts will reference the 2018 edition unless specifically noted.)
On November 1, my phone rang and it was an NFPA member with a question about Christmas trees.  With that, my plans to discuss Code requirements for natural and artificial Christmas trees moved from December to November.  Like consumers, inspectors are dealing with holiday issues long before the actual holiday, sometimes months in advance.
Retail stores, restaurants, and businesses are all jumping on board the holiday season earlier and earlier each year it seems.  Still sorting through Halloween candy, the Christmas and holiday season is forced upon us.
Between 2010-2014, U.S. fire departments responded to an average of 210 home fires that started with Christmas trees per year. These fires caused an average of 6 deaths, 16 injuries, and $16.2 million in direct property damage annually. (See NFPA's report "Home Structure Fires Involving Christmas Trees", issued in November 2016)
NFPA 1 addresses both artificial trees and natural cut trees in all occupancies under Section 10.13 for Combustible Vegetation. Natural Christmas trees, by their nature, are initially fire retardant. The problem arises when they have been cut and packaged without access to water for extended periods of time.
The fire danger of Christmas trees and similar vegetation increases when the bottom end of the tree is not freshly cut and immediately placed in water when purchased. Other concerns include the length of time Christmas trees are on display (as noted above, retail stores often set up outdoor displays of natural trees for purchase before Thanksgiving.)
The species of tree and the rate of moisture loss are important factors in determining the extent of moisture loss. Of the various types of evergreen trees available, the Noble fir retains its moisture longer than other species.
The best preventive measures include using a freshly harvested tree, cutting the butt or bottom end immediately before placing it in water and checking the water level frequently to ensure that the tree water container is filled.
The person responsible for the display should check the tree periodically. When needles shed easily, the tree should be removed or replaced since trees dry from the inside out.
Artificial Christmas trees come in all shapes and sizes.  They even come pre-lit.  Last September, UL published a very helpful white paper about reducing the fire risk of pre-lit trees.  This publication addresses the research that led to the development of performance testing criteria for pre-lit artificial trees.
It is a valuable resource for consumers and code officials when evaluating the safety of artificial trees. With regards to artificial vegetation, the Code is concerned with its fire retardance (heat release rate or other fire performance criteria) which should be displayed on a label or identification from the manufacturer, ignition sources, and electrical components.
The requirements for artificial and natural cut Christmas trees in NFPA 1 are summarized as follows:
Allowances for natural Christmas trees are specified by occupancy and found in Table 10.13.1.1.

Note: Christmas trees are prohibited or limited in their placement in occupancies that pose special problems due to the capabilities of occupants, occupant or management control, or the number of occupants. Some exceptions permit live, balled trees if maintained, and trees in locations where automatic sprinkler systems are installed.

Artificial vegetation and artificial Christmas trees must be labeled or otherwise identified or certified by the manufacturer as being fire retardant. (10.13.3.1)

The fire retardance is demonstrated by each individual decorative vegetation item, including any decorative lighting, in an approved manner.

Christmas trees cannot obstruct corridors, exit ways, or other means of egress. (10.13.4)
Only listed electrical lights and wiring can be used on natural or artificial Christmas trees. (10.13.5)
Do not locate open flames such as from candles, lanterns, and heaters on or near Christmas trees.(10.13.7)
Where a natural cut tree is permitted, the bottom end of the trunk must be cut off with a straight fresh cut at least 1⁄2 in. (13 mm) above the end prior to placing the tree in a stand to allow the tree to absorb water.(10.13.9.1)
The tree is to be placed in a suitable stand with water and the water level must be maintained above the fresh cut and checked at least once daily. (10.13.9.3)
The tree is to be removed from the building immediately upon evidence of dryness. (10.13.9.4)

A method to check for dryness is to grasp a tree branch with a reasonably firm pressure and pull your hand to you, allowing the branch to slip through your grasp. If the needles fall off readily, the tree does not have adequate moisture content and should be removed.
In addition to the Code requirements, NFPA also provides a resource page dedicated to Christmas tree and decoration fires.
Have you had any trouble enforcing provisions for Christmas trees? How does your facility ensure Christmas trees are maintained?
Thanks for reading, and stay safe!
Source: NFPA
Advertisements Please Share With Others!
Click to share on Twitter (Opens in new window)
Click to share on LinkedIn (Opens in new window)
Share on Facebook (Opens in new window)
Click to share on Google+ (Opens in new window)
Click to share on Pinterest (Opens in new window)
Click to share on Tumblr (Opens in new window)
Click to share on Reddit (Opens in new window)
Click to share on WhatsApp (Opens in new window)
Click to print (Opens in new window)
Click to email (Opens in new window)
More
Click to share on Pocket (Opens in new window)
Click to share on Telegram (Opens in new window)
Click to share on Skype (Opens in new window)
Like this:Like Loading...