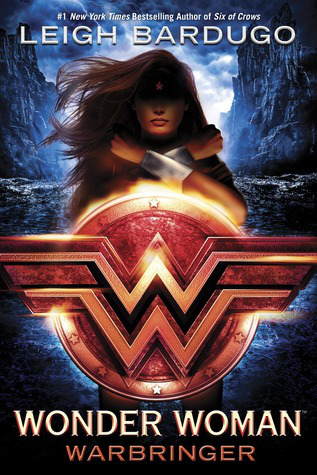 Daughter of immortals.
Princess Diana longs to prove herself to her legendary warrior sisters. But when the opportunity finally comes, she throws away her chance at glory and breaks Amazon law—risking exile—to save a mortal. Diana will soon learn that she has rescued no ordinary girl, and that with this single brave act, she may have doomed the world.
Daughter of death.
Alia Keralis just wanted to escape her overprotective brother with a semester at sea. She doesn't know she is being hunted by people who think her very existence could spark a world war. When a bomb detonates aboard her ship, Alia is rescued by a mysterious girl of extraordinary strength and forced to confront a horrible truth: Alia is a Warbringer—a direct descendant of the infamous Helen of Troy, fated to bring about an age of bloodshed and misery.
Together.
Two girls will face an army of enemies—mortal and divine—determined to either destroy or possess the Warbringer. Tested beyond the bounds of their abilities, Diana and Alia must find a way to unleash hidden strengths and forge an unlikely alliance. Because if they have any hope of saving both their worlds, they will have to stand side by side against the tide of war.
4/5
This was my first foray into super-heroes-turned-novels, and I think it was a great choice for diving in. This was such a kick butt book, both because of the butt-kicking it involved and the awesome feminist representation throughout the story. There were some great friendships in this story, and some really lovely moments of love and betrayal and growing up throughout.
I did find the whole thing very predictable though. From the story itself, to Diana's development and revelations throughout, to the betrayals that happened. You kind of could see it coming. It also felt a little childish – the characters are supposed to be seventeen or so, I think? But they acted much younger, aside from the fact that they could drive.
All in all, I did enjoy this book a lot. It's a fun story, and a fantastic audiobook. As far as superhero stories go, it's one of the better ones I have come across. If you like butt-kicking ladies, Greek myths, or crazy adventures, you should check out Wonder Woman: Warbringer!
Find Wonder Woman: Warbringer on Book Depository
Darcy Patel is afraid to believe all the hype. But it's really happening – her teen novel is getting published. Instead of heading to college, she's living in New York City, where she's welcomed into the dazzling world of YA publishing. That means book tours, parties with her favorite authors, and finding a place to live that won't leave her penniless. It means sleepless nights rewriting her first draft and struggling to find the perfect ending… all while dealing with the intoxicating, terrifying experience of falling in love – with another writer.
Told in alternating chapters is Darcy's novel, the thrilling story of Lizzie, who wills her way into the afterworld to survive a deadly terrorist attack. With survival comes the responsibility to guide the restless spirits that walk our world, including one ghost with whom she shares a surprising personal connection. But Lizzie's not alone in her new calling – she has counsel from a fellow spirit guide, a very desirable one, who is torn between wanting Lizzie and warning her that…
BELIEVING IS DANGEROUS.
3/5
This book has been sitting on my shelf forever, and I finally got around to it via audiobook. It's got some really fascinating things going on for it, especially the whole book-within-a-book thing, as we get Darcy's novel inside of the novel about Darcy. It alternates back and forth, giving you just a taste before taking off into the other story. Which is brilliant, because it keeps you wanting to know what happens next.
There's a fair bit of criticism about how the publishing and writing aspect of this book went. I won't go so far as to say I know a ton of stuff about publishing and writing, because I don't, but if this had gone any other way, it would have been boring as hell. Darcy got super lucky, and maybe it's a one-in-a-million thing, but that's what makes it fun.
My favourite thing about this book is how much Westerfeld was able to vary Darcy's novel from his writing about Darcy. Reading the two separately, I would have assumed different authors, because Lizzie's story is so much more childish and stereotypical than Darcy's story. It made it interesting to follow, and especially as an audiobook, it made it a fascinating comparison. My least favourite thing was how similar all the characters seemed. Which maybe was intentional, but all of them having the same vocal ticks and habits got old pretty quick.
All in all, this was a fun listen, and one of the more unique ideas I've come across. It's not my favourite book ever, and I don't know if it's one I'll reread, but it was fun and I definitely enjoyed it.
Find Afterworlds on Book Depository
Advertisements Share this:
Like this:Like Loading...