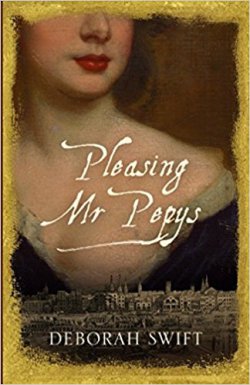 Yesterday afternoon I trotted along to Windermere library to hear a talk by local author Deborah Swift about her new book, Pleasing Mr Pepys. You may remember that I was hoping to attend the launch for this book a couple of weeks ago, only to be driven back by flash floods. This time, in spite of ex-Hurricane Ophelia bearing down on the town, I prevailed, and I'm really glad I did.
The talk was great fun. Deborah spent a good twenty minutes giving us some background on Samuel Pepys (pronounced 'peeps') – a seventeenth century bigwig in the English Admiralty who kept a series of diaries which are both entertaining and exceptionally useful for historical research. The diaries depict him as something of a loveable rogue but he was also a serial womaniser who seems to have chased after anything in skirts!
Three of the women in his life feature in Pleasing Mr Pepys – his French wife Elizabeth, a rather superior maid-cum-companion called Deb, and an actress who was also a spy. Deborah weaves a plot full of intrigue and excitement around these three women and Samuel himself, and cleverly, she does it within the confines of events and descriptions from his own diaries.
The book sounds like an absolute blast. Deborah read out an excerpt from the first chapter which had us all on the edge of our seats – and by way of contrast, also read a couple of brief extracts of Samuel Pepys's own diaries to show us the language, style and sheer detail of his entries.
And on top of that, we had tea, cake and a chance for a good natter afterwards. Not bad value for the princely sum of £1!
Mr Pepys is set to appear in two follow-up volumes, including A Plague on Mr Pepys. So if 17th century intrigue and naughtiness is your thing, grab this one and make sure you look out for that, too.
Advertisements Share this:
Like this:Like Loading... Related