Hey you all! Today I'm kicking off another blogtour!!! This time it's the blogtour for Ster van Acht (Angel Star) by Jennifer Murgia. The whole of September and part of October people will post creative blogposts about this book for Dutch Venture Publishing. My own blogpost will also feature some creative elements. When I was preparing for this blogtour I got the idea to do something with music and pictures. While I was reading the book, however, I couldn't think of a soundtrack of songs that would fit this book. But I did see clear pictures in my head, kind of like a movie, playing out every important scene in the story. So, I decided to drop the playlist and to only use a picture list that will illustrate what the story looked like to me. As always I will first give a short description of the book, next I will show the picture list and then I will give my opinion of the book. Underneath the review I will include a link to a special giveaway (for residents of The Netherlands and Belgium only) for swag and an exclusive novella (paper version) about the antagonist ❤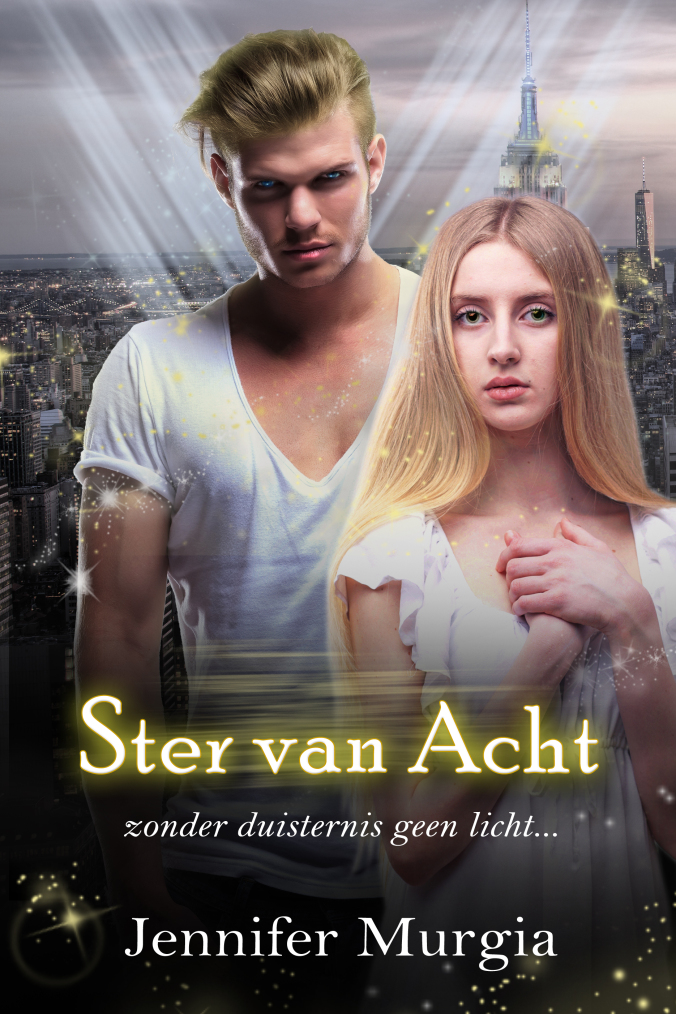 Seventeen-year-old Teagan McNeel falls for captivating Garreth Adams and soon discovers that her crush has an eight-point star etched into the palm of his right hand-the mark of an angel. But where there is light, dark follows, and she and Garreth suddenly find themselves vulnerable to a dark angel's malicious plan that could threaten not only her life, but the lives of everyone she knows. Divinely woven together, Angel Star takes readers on a reflective journey when one angel's sacrifice collides with another angel's vicious ambition in a way that is sure to have readers searching for their own willpower. 
The story in pictures:
My opinion:
For me this book had some good things and some bad things. I'm a bit ambivalent about main character Teagan. On the one hand she's a nice character, a bit shy, friendly, introverted and lonely. Most of the time her feelings are written quite realistically and feel genuine. But, I missed a bit of a deeper connection with her because at some major scenes in the book Teagans feelings seem quite shallow. Especially when someone important to Teagan dies, it almost seems as though she doesn't feel anything. What I did like about Teagan was her development from shy and lonely girl to a self-assured person who knows her worth and strengths.
The romance in this novel is sweet and innocent. I liked the fact that guardian angel Garreth fell for his charge Teagan and was willing to prove his love by breaking the rules and helping her. However, because the story only covers eight days the romance becomes incredibly rushed and feels a little bit too much like insta-love. I get that Garreth has been with Teagan a long time and fell for her through the years, that part doesn't seem rushed, but the fact that Teagan falls in love with Garreth in just two or three days isn't realistic to me. It would have helped if the story took longer than eight days.
I liked Garreth a lot. He's a sweetheart and always puts Teagan first. His protectiveness was fun to read about and didn't seem creepy stalker-like like in so many other YA novels about angels, vampires or other supernatural creatures that fall in love with humans.
Antagonist Hadrian is very cool too. I've got a feeling that he's more complex and his feelings run deeper than this first novel leads us to believe. He's one of those mysterious characters that you want to find out more about. I like that whole dark, tortured thing he has going on, especially because there seems to be light and good left in him. I'm really curious to find out more about him.
I also liked the worldbuilding and suspense in this book. The story world was realistic and the whole angel lore was well developed. I loved everything about the guardian angels, octograms, bloodties and willpower. Hopefully the next book will explore some of these things in more detail