I received this eARC from Netgalley in exchange for an honest review.
TW: anorexia, drug abuse, child abuse, suicide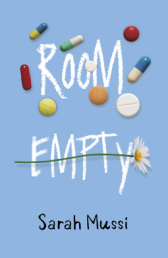 Room Empty by Sarah Mussi revolves around Dani and Fletcher, who are both inpatients at the Daisy Bank Rehab Centre. Dani is trying to recover from anorexia, whilst Fletcher is battling a drug addiction. This unlikely pair end up forming a romantic connection after they are grouped together as "Recovery Buddies". Dani begins having flashbacks to her traumatic younger years which she has obviously repressed. Fletcher is by Dani's side throughout this, urging her to delve into her flashbacks to hopefully identify how her eating disorder was born and why she is struggling to recover.
'We're going to peel back the layers of the onion until we find the core,' says Judith.

I don't point out that apples have cores and onions only have centres and that educated psychodynamic counsellors should not mix their metaphors when dealing with vulnerable, inner-screaming children.
I found the story to be both poignant and funny. Dani is wildly narcissistic and though it can be a little tiresome at times I still found her relatable. Fletcher, on the other hand, was a character I could really empathise with. His dialogue surrounding his childhood experiences felt very realistic when it came to his abusive mother.
There were a few things about the book that brought it down for me. Firstly, I thought the characterisation could have been better. We didn't really get to know Dani and Fletcher that well outside of their illnesses. In a way, they were just their illnesses and nothing else. I also found it a little unbelievable how quickly they fell in love even though they had hardly spoken! Lastly, the pacing of the book just felt a little off to me, in a way I can't quite put my finger on. The exciting bits were a bit rushed, while boring bits were dragged.
I recommend this book for fans of A Million Little Pieces! I give this book 3/5 stars.
The publication date for Room Empty is 6th April, 2017.
I'd like to thank Netgalley and Oneworld Publications for allowing me access to this ARC.
Advertisements Share this:
Like this:Like Loading... Related