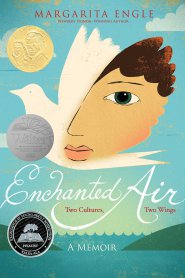 Enchanted Air (paperback)
by Margarita Engle
Enchanted Air is a memoir about a girl named Margarita whose mother is Cuban and father is American/European.  She spends her summers in Cuba riding horses, playing with cousins, and being an adventurous, outgoing girl.  Back in California, she is quiet, withdrawn, studious, and loves nature.  She is torn between two countries, two worlds, and two versions of herself.  Set during the Cold War, Margarita fears for her Cuban family when war breaks out, and she isn't sure if she'll ever see her relatives again.
What I liked about this book is that it teaches a lot about the time period that I wouldn't normally know.  I got to see what it was like for a Cuban American living during this time- the hostility, the fear, etc.  There was mention of the Japanese internment camps during World War II, and she was afraid that would happen to her mother.  I didn't think about having to write letters in code.  I think this would be interesting to teach students about since they don't generally know much about wars other than World War II.
What I didn't like about this book was that it wasn't as memorable for me.  It was very well-written and it had it's merits, but I think memoirs aren't my genre.  That isn't a drawback of the book… it's personal taste.
Book 28 of 40
Advertisements Share this:
Like this:Like Loading... Related