Goodreads Monday is a weekly meme hosted here! To participate, choose a random book from your TBR and show it off. Don't forget to link back here and feel free to share your links in the comments so that others can see what you picked. 
Hey guys! I hope you all had a great weekend! Clocks went back, which means winter is definitely on the way. The weather has already started turning and Christmas things have already hit the shelves – which is crazy!
This weeks pick for me is a book that hasn't really been on my TBR for a huge amount of time, but one with a cover that catches my eye every time I scroll by it.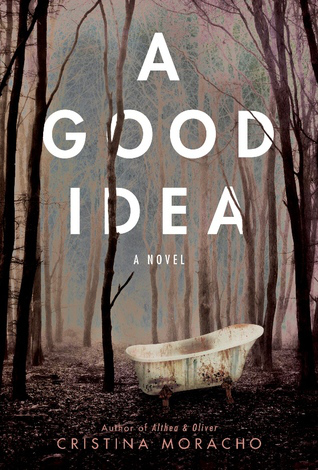 A Good Idea by Cristina Moracho
Published: February 28th 2017 by Viking Children's Books
Can the right kind of boy get away with killing the wrong kind of girl?
Fin and Betty's close friendship survived Fin's ninth-grade move from their coastal Maine town to Manhattan. Calls, letters, and summer visits continued to bind them together, and in the fall of their senior year, they both applied to NYU, planning to reunite for good as roommates.
Then Betty disappears. Her ex-boyfriend Calder admits to drowning her, but his confession is thrown out, and soon the entire town believes he was coerced and Betty has simply run away. Fin knows the truth, and she returns to Williston for one final summer, determined to get justice for her friend, even if it means putting her loved ones—and herself—at risk.
But Williston is a town full of secrets, where a delicate framework holds everything together, and Fin is not the only one with an agenda. How much is she willing to damage to get her revenge and learn the truth about Betty's disappearance, which is more complicated than she ever imagined—and infinitely more devastating?
This definitely looks interesting and I cannot wait to grab a copy and dive into it!
Find me here:
Instagram/Goodreads/Twitter/Litsy @ Lauren's Page Turners
Advertisements Share this:
Like this:Like Loading... Related