SUNDAY, 4th June (continued)
GORDES
GORDES is a very beautiful old village, another listed in Plus Beaux Villages, the Most Beautiful Villages of France. It is perched on the southern edge of the high Plateau de Vaucluse. The stone buildings built tight against the base of the cliffs and those perched on the rocks above, including the 12th century castle, are made of a beige stone. Nicholas was able to stop briefly (narrow road and many cars) at a special photo spot and we jumped out to take the opportunity to photograph GORDES from a distance.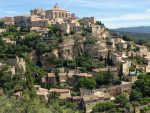 Next, onward and upward to the village. The view from the village is a southern panorama out across fields and forests and small perched villages to the Montaigne du Luberon. This was our lunch stop. We always aim to choose a place with an ambience to suit the meal and today it was outside under red umbrellas – fromage for me!
ROUSSILLON
Rousillon is situated in the heart of one of the biggest ochre deposits in the world. It is famous for its magnificent red cliffs and ochre quarries. The red, yellow and brown shades of the earth form a striking contrast with the lush green pine trees. The red is caused by iron oxide deposits in the sandy soil. The origins can be traced back millions of years to when Provence was under water. The vivid blue of the Provençal sky and the exceptional quality of light make this a picture to behold. The ochre facades of the houses are magnificent… subtle shades from light yellow to dark red complimented by brightly painted shutters and doors.
The Luberon ochre hills is where a safe path (which Erika and I followed) has been developed. It is dotted with information for the thousands of interested people who marvel at this fragile site. It was listed as a conservation area in 2002.
MENERBES
What can I say? Another beautiful stone village this time perched along the top of a long ridge overlooking vineyards to the north. The location, if not the actual village has been occupied since Neolithic times. We walked along the top of MENERBES, along paths and through alleys across the Place de la Marie, with many examples of 16th and 17th century architecture to the Church and Cemetery. This village was Peter Mayle's inspiration to write OneYear in Provence.
Cherry trees laden with fruit
Share this:
Like this:Like Loading... Related