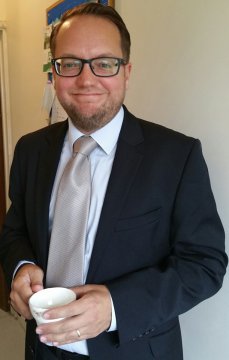 Hebrews 10: 23-2, Holding Fast Together
There's a battle waging for the souls of God's people today. Whilst our God leads His people, He calls them together to encourage each other to look to Him. It's a team effort. A top priority of the Christian life is learning to battle against unbelief. Now we are Christians it's a wrong notion to think the battle is over. Have we allowed our unbelief to creep in through the back door? Paul's closing remarks to Timothy are, 'I have fought the good fight, I have finished the race, I have kept the faith (2 Timothy 4:7). Paul had fought the good fight all his Christian life. One way he did this was to surround himself with faithful believers.

The biggest battle we face is unbelief. When we make a public confession of faith through baptism it should serve as a strong motivation to hold fast when we're tempted to disbelief, to compromise. Holding fast implies there is some serious danger, serious difficulty. What persecutions are you facing? We are persecuted in different ways. We may yet face our greatest persecutions. We should be ready. We all face the pressure of conformity of the world; it is easier to blend in than to stand. The writer of Hebrews wants us to hold fast, not to let go. Christians have a firm grip on Jesus Christ. We are being kept, not ultimately because of our grip on Christ, but because of His grip on us. Keep on holding on to the one who will never leave or forsake you. Hold fast without wavering.
Hope points to the absolute certainty, but not yet realised promises of God. He who promised is faithful. We put our trust in Him. Are you trusting the faithful God, trusting Him to complete what He has already done? Hope is essential for the Christian life. It's like a long rope that keeps us attached to the sovereign God. Hope is grounded on the historical life, death, resurrection and ascension of Jesus Christ. 'So that by two unchangeable things, in which it is impossible for God to lie, we who have fled for refuge might have strong encouragement to hold fast to the hope set before us. We have this as a sure and steadfast anchor of the soul, a hope that enters into the inner place behind the curtain, where Jesus has gone as a forerunner on our behalf.' (Hebrews 6:18-20).
Throughout the storms of life, the pressures to conform to this world, the anchor that holds us is Jesus, our rock. Let us pray for one another that we will continue to hold fast in faith. An incredible future awaits us. Life is tough, pray that we will be granted a clearer vision of heaven to come, see the beautiful shores that await us.
Encourage each other to love.
'And let us consider how to stir up one another to love and good works, not neglecting to meet together, as is the habit of some, but encouraging one another, and all the more as you see the Day drawing near.' (Hebrew 10: 24-25).
Continually minister to one another. 'Shared joy is double joy, shared sorrow is half the sorrow.' (Swedish motto). Be involved, like co-workers, team-workers, rejoicing with those who rejoice, mourning with those who mourn. 'But woe to him who is alone when he falls and has not another to lift him up.' (Ecclesiastes 4:10). When a person struggles spiritually that person needs those who will help him out of the ditch. Find help from others. We also need others because of their skills and their gifts. We're a team, we do not excel each other; we depend on each other. The command here is 'to consider' how to stimulate one another to love and good deeds – to encourage others around you to love and good deeds. To consider is to give thought about how it is going to happen. Ask 'What does the person need to grow to encourage them to look to Christ and to encourage them?' How do we do this? It's very important not to neglect to meet together. It's so discouraging when people allow the world's priorities to crowd in and neglect meeting together. We should encourage one another. The devil is trying hard to attack God's people, to remove their confidence in Christ. 

We should be filled with joy because of Jesus' return. We should meet together to have encouragement, to see a glimpse of heaven. We have three meetings here a week in Penuel which we can attend. We can see the power of Christ. He is keeping His people. Our gatherings are to be encouraging, pointing us to heaven. Are you aware Jesus is coming? These are difficult days but we need to gather together, to press on, looking in hope to Jesus' return.
Advertisements Share this:
Like this:Like Loading...