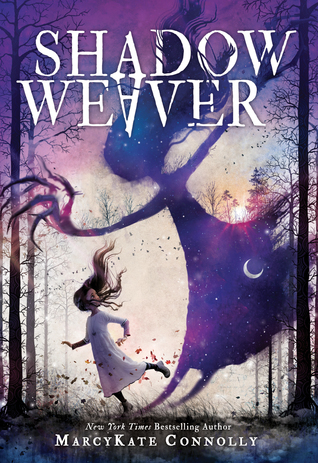 An unforgettable, magical journey filled with shadows and wonderful writing, Shadow Weaver is not a book to miss in 2018!
The shadows that surround us aren't always as they seem…

Emmeline has grown up with a gift. Since the time she was a baby she has been able to control shadows. And her only friend and companion is her own shadow, Dar.

Disaster strikes when a noble family visits their home and offers to take Emmeline away and cure her of magic. Desperate not to lose her shadows, she turns to Dar who proposes a deal: Dar will change the noble's mind, if Emmeline will help her become flesh as she once was. Emmeline agrees but the next morning the man in charge is in a coma and all that the witness saw was a long shadow with no one nearby to cast it. Scared to face punishment, Emmeline and Dar run away.

With the noble's guards on her trail, Emmeline's only hope of clearing her name is to escape capture and perform the ritual that will set Dar free. But Emmeline's not sure she can trust Dar anymore, and it's hard to keep secrets from someone who can never leave your side.

The first in a dark middle-grade fantasy duology, MarcyKate Connolly weaves a tale filled with shadows, danger, and magic that has the feel of a new classic.
I picked up this book because my good friend and fellow booknerd JM Tuckerman (Henderson, now! Yaaaay!) read me an excerpt of the first page and I feel in love immediately. The second I could, I hurried over to Netgalley and requested my own copy.
And the second I got it, I couldn't put it down.
I devoured this book.
MarcyKate Connolly has a way with words and it's spellbinding. Shadow Weaver is full of beautiful writing and a hauntingly spooky story about a girl and her shadow. You're rooting for Emmeline from the beginning and the mystery around Dar, her shadow, grows with each page.
I absolutely loved this magical tale and I'm excited to see what MarcyKate Connolly brings to the table next.
Shadow Weaver releases January 2nd, 2018.
Advertisements Share this:
Like this:Like Loading... Related