It's almost the end of the year and I am way behind as usual. I hope you all enjoyed your holiday, whatever ones you like to participate in, even if it is just a work holiday. Week 43 covers October 23 – 29. As always, your feedback is greatly appreciated.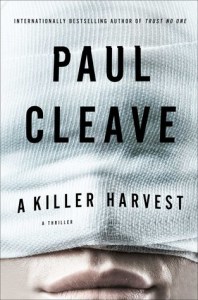 A Killer Harvest by Paul Cleave – I received this in my first ever PageHabit subscription box. It is an actual book and I paid money for it. Which is rather an anomaly for me. In this, a detective is killed in pursuit of a suspect and his partner also kills the suspect. The detective has donated his organs, but specifically his eyes to his nephew who is blind and in his care since both of his parents have died. The suspects organs are also donated. There is a bit of a mix-up at the hospital. The nephew begins having dreams from both his uncle's perspective and that of the killer. They begin to question the existence of muscle memory. I almost revealed a spoiler there. This is a very good book and I highly recommend it. Mine came with annotations from the author which were very cool. They also donate money to literacy programs in Africa, so this was well worth it in my opinion. I'm giving the book 5 stars.
Murder on the Orient Express by Agatha Christie – I borrowed this as an actual book from my mum. This is Hercule Poirot #10. I've been slowly reading through this series and I believe there are about 30 more of these Poirot's to go. This is the best one so far in my opinion, though I did figure this out rather sooner than the author intended. This was just made into a movie that everyone seems to adore and I look forward to seeing it for myself. I did read this because the movie was coming out and I had it in my stack to read. The stack is a monster, though and I could have easily chosen something else. In this one, Poirot is on a train and there happens to be a murder, which is pretty bad luck for the murderer, because Poirot will figure it all out using his little gray cells. I thoroughly enjoyed it. I'm giving it 4 stars.
Tales of the Night by Peter Høeg – I borrowed this as an e-book from the Boston Public Library. I was trying to get Smilla's Sense of Snow, but the library didn't have a format that jived with my Kindle. I read this because I was getting ready for a trip to Copenhagen (and Iceland), and I wanted to sample some of the local authors to get a feel for the setting. This is an interesting selection of short stories. The tales are all from one night and happen all over the world. It is an interesting concept. My favorite was "Pity for the Children of Vaden Town" in which the town attempts to keep smallpox at bay. This lives up to the translation theory that if it was crap, no one would bother to translate it. I thought it was really interesting and the stories are well written. I'm giving it 3 stars.
Watch Me by Jody Gehrman – I received this as an actual book from Goodreads. This is a psychological thriller, which is my current favorite genre. This is told from the perspective of the stalker and the victim. Sam is obsessed with Kate, to the point where he has gotten into the college where she teaches and has signed up for her creative writing class. He does all of the creepy stalker things, like steal her keys to get in her house. Kate is a struggling author who happens to be working as a creative writing professor at a rather small college. She finds herself falling for Sam mostly because of the intense interest he pays her. It helps that he shows up in places she doesn't expect him to be (not that he has access to her email or anything). Things get really intense and you'll just have to read it. Actually, I just realized that I already wrote a blurb on Goodreads for this:
"The blurb on the back of this book says, "A Gripping Psychological Thriller." I totally agree. Kate is an author and an English professor. Sam is a student who is entirely obsessed with his professor. Sam is also a sociopath. This is my favorite type of book. It's the kind that immediately pulls you in and then compels you to read it until the end, mostly just to see who's still alive at the end of the train wreck. I thoroughly enjoyed it."
Do I need to use quotation marks when I'm quoting myself? No idea. Anyway, I'm giving it 4 stars.
And that is it for Week 43. Let me know if you have read any of these, or plan to now that you've read my blurbs.
Advertisements Share this:
Like this:Like Loading... Related