Looks like I spoke too soon about the returning vitality of this blog! But spring is here, the daffodils are nodding their yellow heads, and I have read a few books that I want to talk to you all about, so let's go. (Here's February, with March to come shortly.)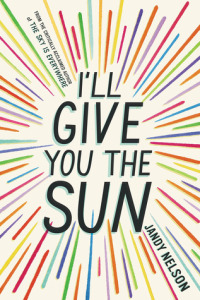 I'LL GIVE YOU THE SUN by Jandy Nelson – I know this is a favourite for a lot of people. I listened to the audiobook, and griped a lot about the "English" accents I was therefore subjected to, but overall I enjoyed this book a lot. I love Jandy Nelson's distinctive prose style. It elevates her books above the generic US contemporary mold and makes them a little more magical. In I'll Give You The Sun, the story is told in a non-linear way by two sibling narrators, and I really enjoyed this, especially the way it digged deep into the characters and the way they changed over the years. People change so gradually for the most part, we can't see how different we've become until we compare ourselves against ourselves two, three years ago. Mostly, the book is about family and truth, and how we keep secrets from those we love the most, or even from ourselves. It's a totally charming book with all sorts of lovely and unconventional family dynamics. Thoroughly recommended.
THE ARGONAUTS by Maggie Nelson – This beautifully lucid examination of sex, gender, birth, death, and everything else had me feeling rather smarter just by merit of owning it. Nelson has a wonderful brain and a compelling way with words. It stood out to me more as a startlingly personal piece of autobiography rather than a work of theory, as I have already discussed and thought about gender in complex ways during my academic career. Yet there is something so vital about a woman talking frankly about her body and the miracles and pleasures it can perform. You cannot read this book without your intellect and empathy being expanded, and isn't that exactly what literature is for?
STILL by Nadine Aisha – A poetry collection about survival, and giving voice to the experience of being a woman in a world still so steeped in gendered violence. I'm basically a big Nadine Aisha fangirl. Moving, honest, bare and beautiful. If you have the chance to see the poet perform her work, leap at it. Her words form a quiet, powerful place for the reader to reflect and endure: to be still.
IF YOU COULD BE MINE by Sara Farizan – Heartbreaking and candid, this novel gives voice to a gay teen in Iran, in hopeless love with her childhood best friend. I enjoyed the frank tone of the narrator, and the brief window into what is in some ways a very different culture (and in other ways, not so much).
NASTY WOMEN edited by 404 Ink – The consistent quality of this essay collection is just staggering, as is the incredible spectrum of issues it covers. This should be required reading for every human being, especially men. Saying that, I found something new in every essay, even those about issues on which I already considered myself informed. Special shout-outs for Laura Waddell's piece on the invisibility of the working-class narrative, Rowan C Clarke's heartbreaking essay revealing homophobia to be alive and well, and Alice Tarbuck's quietly subversive celebration of
witchcraft. I've been particularly passionate lately about the idea that when we, as women, speak out about our own experiences, what we are doing at the same time is carving out a space for other women to speak. Nasty Women is carving out a bloody huge space for women's voices, and thank goodness for that.
Advertisements Share this:
Like this:Like Loading... Related