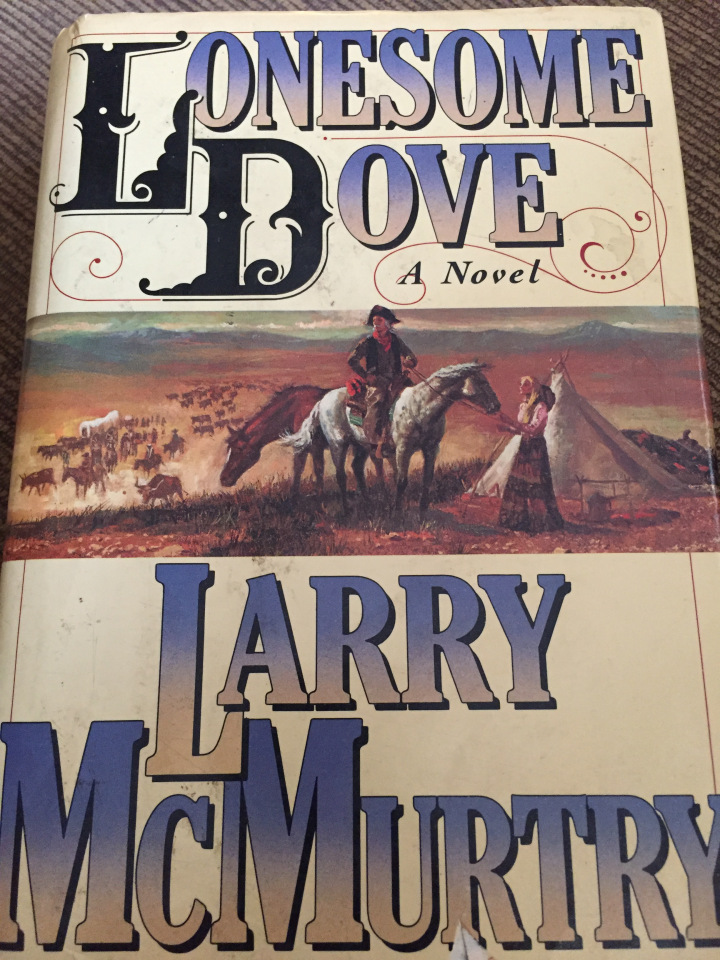 This book has been on my library shelf and on my reading list for years. I found this treasure at a yardsale that I went to, years ago, with my mom and Aunt Joy.
However, I didn't realize the wonder and beauty of the story until I was back in Pennsylvania a couple of weeks ago and had a late-night movie party, just me and my dad.  This story of Gus McCrae and W.F. Call (played by Robert Duvall and Tommy Lee Jones) tells about two Texas rangers, their adventures, hardships & sometimes funny antics.
The reason I haven't jumped  into this Pullitzer-Prize-winning book yet is because of the sheer length of it.
It's a bit intimidating, almost like taking on "War and Peace." But, as Dad and I watched the last movie that night, I quickly became attached to the characters and wanted to know the whole story.
What's more, is that this story is based on true events – the adventures of Oliver Loving and Charles Goodnight who lived during the 1800s and are now buried in Weatherford, Texas.
My dad has always had impeccable taste in movies (except those old fake Godzilla monsters) and this is one that he highly recommends. Winter is coming and it's the best time for cuddling up under a warm blanket with a cup of cocoa and delving into a really good book.
I trust that the author, Larry McMurtry, will keep me entertained, as he takes me with him 200 years into the past and into the wilderness. After all, McMurtry was born in 1936 in Archer City, Texas and was raised on a cattle ranch. Most of his works are created around the wild west.
Now, how do I break it to my dad that Larry McMurtry helped write the screenplay for Brokeback Mountain?
Share this:
Twitter
Facebook
Google
Pinterest
Like this:Like Loading... Related