Alexis A. Goring is my Friday Friend today and is a passionate writer with a degree in Print Journalism and an MFA in Creative Writing. She loves the art of storytelling and hopes that her stories will connect readers with the enduring, forever love of Jesus Christ. She's here to talk about her book, A Second Chance.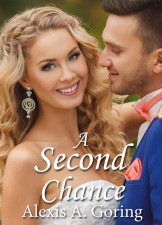 Buy links: Amazon (http://amzn.to/2f7waYL)
Barnes and Noble (http://bit.ly/2uguncU)
Book blurb: Newly single food critic and newspaper reporter Traci Hightower is done with dating. After the man of her dreams left her at the altar on their wedding day and ran off with the woman she thought was her best friend, Traci resolves to focus on work and resigns herself to being a bachelorette for life.  Marc Roberts is a political reporter who is known as Mr. Nice Guy, the one who always finishes last. However, Marc's compassion and kindness are of invaluable help to his newly widowed sister Gina Braxton who is trying to raise her two kids in the wake of her firefighter husband's death.  Traci and Marc may be the perfect match, but they don't know it yet. With God's guidance and the help of Gina's matchmaking skills honed by her career as a bestselling romance novelist, there is hope for a happily ever after for these two broken hearts.
You can contact Alexis on Facebook at  https://www.facebook.com/AuthorAlexisAGoring/ or her website at https://alexisagoring.jimdo.com. 
Thanks, Alexis, for stopping by.
GOD BLESS & GOOD READING!
Advertisements Share this:
Click to share on Twitter (Opens in new window)
Share on Facebook (Opens in new window)
Click to email (Opens in new window)
Like this:Like Loading... Related