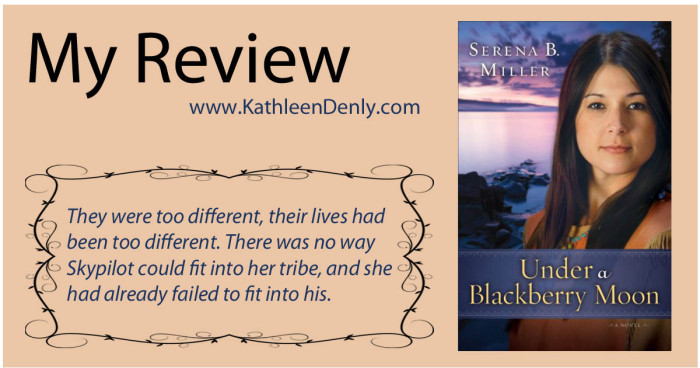 Just a few days after she gives birth alone in the Northwoods, a recently widowed young Chippewa woman stumbles into a nearby lumber camp in search of refuge and sustenance. Come summer, the camp owner sends Skypilot, his most trusted friend, to accompany Moon Song and her baby on the long and treacherous journey back to her people. But when tragedy strikes off the shore of Michigan's Upper Peninsula wilderness, Moon Song and Skypilot must depend on each other for survival. With every step they take into the forbidding woods, they are drawn closer together, until the tough questions must be asked. Will she leave her culture to enter his? Will he leave his world to enter hers? Or will they walk away from a love that seems too complicated to last?
With evocative descriptions of a breathtaking landscape, Under a Blackberry Moon will sweep readers into a wild realm where beauty masks danger and only the truly courageous survive, even as the sweet love story along the way tightly grips their hearts.
Why This Book:
I read the first book in Serena B. Miller's Michigan Northwoods series, The Measure of Katie Calloway, three years ago and it's one of those books that has always stayed with me. I couldn't tell you why that one stands out among the dozens (possibly hundreds) I've read in the last few years, but it does. And I knew immediately that I wanted to read the next book to see what became of Skypilot, Moon Song and her little boy. It just took me far too long to get around to it.
Opening Line(s):
Bay City, Michigan
May 15, 1868
"Whose squaw are you, girl?"
The hand gripping her upper arm belonged to a man with bad teeth and foul breath.
First Impressions:
As you can see, I couldn't resist sharing the second line above and it just gets better from there. The novel starts off with a confrontation that had me engaged from the very beginning. Perhaps this was partly due to the fact that I remembered Moon Song from the first book and cared about what happened to her, but I believe any reader would be immediately grabbed by the predicament Moon Song finds herself in in the first scene.
Characters:
Moon Song – A young Chippewa widow and mother of Ayasha with more determination, strength, intelligence and sheer willpower to survive than anyone could possibly ask for. Without going into the implausible, this woman embodies my idea of a true life Super Woman. Not without her faults, her courage, loyalty, honesty, and love make her a character you can't help but admire.
Skypilot – A man out of his depth, he is nonetheless determined to act as Moon Song's protector until she reaches her people. It's just too bad for him she doesn't need one. What's more, she winds up protecting him most of the time and it's a sign of how well-suited they are for each other that he handles it so well.
Isabella – The wife of Colonel James Hatchette and mother of infant Archibald. She meets Moon Song and Skypilot on a steamship. There lives intertwine in a surprising way which I won't reveal, but her personal journey will take you from laughter, to fury, to the verge of tears.
Emotional Engagement & Pacing of the Story:
If you've read my character descriptions, you've undoubtedly picked up on my emotional connection to the characters in this story. Unique from any other story which I can remember reading, this book will take you on an emotional journey you're not likely to forget any time soon. It's vivid setting descriptions will have you feeling as though you're right there with the characters, experiencing every uplifting, heart-rending,  grit-testing moment. I would describe the pacing of this story as a strong and steady urgency to discover what happens next.
Elements I especially liked/disliked:
I don't read many books with native american heroes or heroines. They just aren't usually my cup of tea, but this book is one of the exceptions. I actually really liked that Moon Song came from a different cultural world than the typical historical heroine. Seeing that time and place through her eyes made the entire experience unique.
Themes:
Under the Blackberry Moon explores the question of what to do when your life plans go completely awry, how to seek God's will above your own, and what it means to share the gospel of Christ without masking over another culture. Grief and loss and how different people handle those things in their own way is also a topic addressed in this story.
Ending:
This story didn't hurry to tie everything up in a nice neat bow. It took its time getting there and I truly appreciated that. Just when I thought I was nearing the end, the author threw in something unexpected that delayed the story's conclusion in a way that felt natural and satisfying, not at all frustrating. Much like a good chocolate you want to savor, this story takes the time to follow the twists and turns life naturally throws at people. So that when the story finally did conclude, you felt you were able to enjoy every moment and closed the book with a sigh of contentment.
(none of the links in this review are affiliate links)
Overall Rating:
5 out of 5 stars
What's the last romance novel you read with a native american as one of the main characters? Have you read any of Serena B. Miller's other novels? TWEETABLES:
Seeing 1868 Michigan through the eyes of a young Chippewa widow makes this a unique read. – Click to Tweet!
I closed this book with a sigh of contentment. #bookreview @Kathleen Denly – Click to Tweet!
Any reader will be immediately grabbed by the opening scene of this novel. – Click to Tweet!
Psst! Feel free to borrow any of the photos in this post for sharing on social media and remember to tag me @KathleenDenly !
Share this:
Share on Facebook (Opens in new window)
Click to share on Twitter (Opens in new window)
Click to share on Pinterest (Opens in new window)
Click to share on Google+ (Opens in new window)
More
Click to print (Opens in new window)
Click to share on Pocket (Opens in new window)
Click to share on Reddit (Opens in new window)
Click to email (Opens in new window)
Click to share on LinkedIn (Opens in new window)
Click to share on Tumblr (Opens in new window)
Like this:Like Loading... Related