Yesterday I shared a book called Mesmerized by Mara Rockliff and illustrated by Iacopo Bruno. I have another book by this duo today.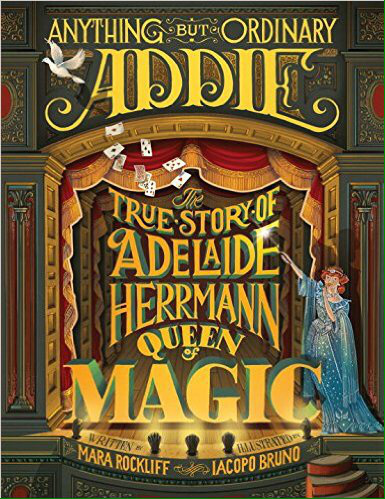 Somehow, I made it through life not knowing about Adelaide Herrman. She was an amazing woman and an amazing magician.
I love this picture. Bruno really captured the feeling of Addie wanting to stand out. She was not the kind of woman to follow society's rules. She met her husband when he was a young magician from a famous family of performers.
Addie joined the Herrman performance lifestyle and thoroughly enjoyed her life. Sadly, her husband died and she was left in charge of a large performance group — a "family" she wanted to continue to provide for.
Despite all of society's expectations, Addie became a magician and started performing, even death defying tricks like catching a bullet!
Addie became The Queen of Magic, and yet somehow she has faded from our cultural memory. Rockliff wrote in her author's note that she wants to change that, and I'm going to help spread the word. Adelaide Herrman deserves to be remembered as well as Houdini.
Advertisements Share this:
Like this:Like Loading... Related