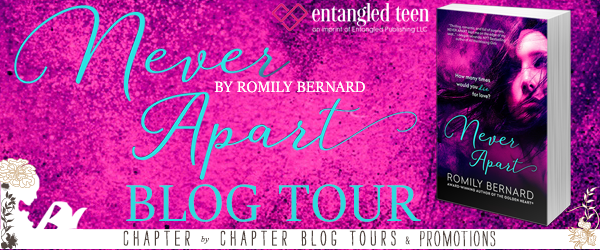 Hey all, it's Sarah!
I am so happy to be participating in the Chapter by Chapter Blog tour for Never Apart by Romily Bernard. I could barely contain my shouts of glee when I found out that Bernard had a new book coming out. I was first introduced to this author with the book Find Me, which it the first in the Find Me series.
It was one of those books I couldn't put down or shut up about. I talked so much about this book that everyone I worked with read it too…and then we all fought each other for the library's copy of the next book in the series (my library friends won, so I bought the book…which is totally still a win). Bernard had some high standards to live up to with this new book and she totally didn't let me down.
About the Author:
Romily Bernard graduated from Georgia State University with a literature degree. Since then, she's worked as a riding instructor, cell-phone salesperson, personal assistant, horse groomer and exercise rider, accounting assistant, and, during a very dark time, customer service representative. . . . She's also, of course, now a YA novelist. So don't let anyone tell you a BA degree will keep you unemployed. Romily currently lives in Atlanta, Georgia. Her debut novel, Find Me, won the Golden Heart Award for YA Romance from the Romance Writers of America in 2012.
Website | Twitter | Facebook | Goodreads
Summary (as created by publisher, giving credit where credit is due):
Never Apart by Romily Bernard
Publication Date: October 3, 2017
Publisher: Entangled Teen
How many times would you die for love?
What if you had to relive the same five days over and over?
And what if at the end of it, your boyfriend is killed…
And you have to watch. Every time.
You don't know why you're stuck in this nightmare.
But you do know that these are the rules you now live by:
Wake Up.
Run.
Die.
Repeat.
Now, the only way to escape this loop is to attempt something crazy. Something dangerous. Something completely unexpected. This time…you're not going to run.
Combining heart-pounding romance and a thrilling mystery Never Apart is a stunning story you won't soon forget.
Review:
This book kept me on the edge of my seat, shouting at the book. WHAT IS GOING ON? WHY ARE YOU DOING THAT? WHO ARE YOU? YOU JUST DID WHAT NOW!? It was that ending though, that was what I really think brought this book around and made it great. I think this novel sticks with Bernard's ability to keep readers compelled with the haze of mystery and intrigue. While I did love this book, I also want to be honest. I didn't find either of the guys to be as awesome as Griff the Find Me series (eek, don't hit me). To also be fair, Griff is probably my favorite YA boyfriend…ever….plus he had Wick who was a completely rocking butt kicking heroine. I know this book just came out, but I am ready for the next book. Bernard proves that she can continue to create great stories. I can't wait to see what's next.
Thanks for visiting us here at Bickering Book Reviews, see you around.
If you want to add Never Apart to you TBR shelf on GoodReads, or get more info on how to buy it, check out the links below:
Link to Goodreads:
https://www.goodreads.com/book/show/33509080-never-apart
Purchase Links:
Amazon | Amazon Australia |  Amazon UK | Amazon Canada | B&N | iBooks | Kobo | Entangled
Looking for more stops along the tour, more reviews, interviews and fun stuffs, then check out the tour schedule below:
Link to Tour Schedule:
http://www.chapter-by-chapter.com/tour-schedule-never-apart-by-romily-bernard/
And there is a giveaway! SCORE!
Giveaway Info:
Hard cover of Never Apart by Romily Bernard
a Rafflecopter giveaway
Share this:
Email
Facebook
Twitter
Google
Pinterest
Like this:Like Loading...