I like monochromes and I like minimal art supplies… at least, I like minimal art supplies for each project coming out of a huge pile of neat stuff.  Anyway, water soluble pencils fit the bill for monochrome and minimal.  All you need is a brush, pencil, paper and some water and you can create an entire painting using graphite.  Yes, pencil lead can be activated into a fascinating, flowing medium just like watercolour.  Pencil sketches come alive;  watercolour sketches are a lovely soft black and white value study.  It is a striking medium because it is not well known as a painting medium.  Judy and I mucked about a bit with our pencils and brushes before class: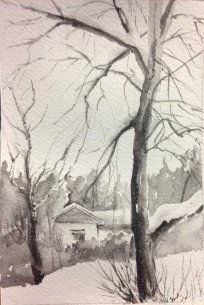 The photos are not great, but you can still see the techniques.
The white of the paper shines through in the top right picture and different values give the snow a nice glow.  Layering the graphite is not a problem.  This was done entirely by touching the brush to the pencil tip to load the graphite.
In the middle picture, Judy filed some graphite off the pencil using sandpaper.  Then she drew the tree with the brush and clear water.  Wherever the graphite was activated it spread into the water to make the random patterns that look like bark.  Extra black in the brush was used to sketch in lighter background trees.  Finally, a spray bottle activated the remaining powdered graphite to make leaves.
Top left is a simple wash.  My pencil was gobbed with moist graphite after painting another picture so I wiped it on the paper, then spread the graphite upwards into a lot of water.  With my loaded brush I switched to a horizontal stroke and filled in some water or snow in the foreground.
At the bottom are some thumbnails showing the fading off technique and also testing values.  What a great medium for a quick sketch wherever you happen to be.
Advertisements Share this:
Like this:Like Loading... Related