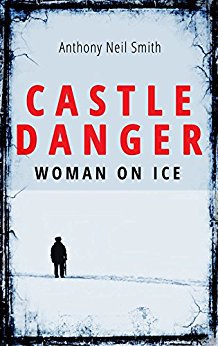 Castle Danger by Anthony Neil Smith
Synopsis:
"Hey, Manny here. I'm a cop in Duluth, Minnesota. Vacation paradise in the summer, but some of the longest, coldest winters in the USA, with more snow and ice in one blizzard than most people see in a lifetime. And we all know what happens to people during long, cold winters. They die. They commit suicide or start fights out of pure boredom or because they're depressed, worried that the sun will never return. Or they get killed. If you want to make sure the person you've killed won't be found, just drop them under the ice of Lake Superior. Not much ever floats up from its depths again. Well, except this one morning …"
When a dead woman is fished out of Lake Superior, Manny Jahnke is there to discover the baffling truth: The "woman" in the ice is biologically a man. Before he can learn more, the corpse sinks back into the water, pulling Manny's partner along with it. Both disappear under the ice, never to be seen again. Now Manny has a missing victim, a new partner he likes even less than the old one, and a case no one wants solved. Or so it seems. Manny grows obsessed with the "woman on ice" whose secrets prove to be as vast as the Great Lake itself – and whose enemies turn out to be powerful enough to keep those secrets hidden. Only one thing is certain: if Manny survives, he'll never be the same man again.
Q&A:
Q) For the readers, can you talk us through your background and the synopsis of your new novel?
A) I was born and raised on the Mississippi Gulf Coast, stayed long enough to get a PhD from the University of Southern Mississippi, then moved to Minnesota, where I'm a Creative Writing professor. But I've always loved the crime genre first.
CASTLE DANGER: WOMAN ON ICE follows a young cop named Manny as he pursues the truth about a frozen transwoman found in Lake Superior. It seems no one wants him to find out who she is, and they're willing to deal him some serious damage to keep him off the case. His obsession is also due to some personal issues, as he has already begun to question his own gender identity.
Q) Can you talk us through the journey from idea to writing to publication?
A) It always starts with a character. In this case, Manny, an angry cop sitting at his computer fuming over porn. But what took a long time to figure out was why? I knew he was going to find a transwoman on the iced-over lake, but what was it that got to him? My editor and I discussed possibilities, and he suggested that Manny had injured his genitals somehow, which led to me thinking he did it to himself "accidentally", or maybe not so much, because he wasn't sure he should be a man.
I told my editor at the time, and he was interested, but thought it wasn't necessarily a "commercial" novel, but it kept his attention enough to ask to see the pitch again to show it to the folks at BE Ebooks. They loved it, and that led to two books (so far) about Manny and his partner Joel.
Q) What are your favourite authors and recommended reads?
A) I read so much, all the time, and the list is pretty long. My "big three" are James Ellroy, Flannery O'Connor, and Chester Himes (although James Crumley is as close a fourth as possible). They really bring the "gonzo" (absurdity). White Jazz was the first crime novel I really saw as art. "A Good Man is Hard to Find" and "Parker's Back" are brutal and funny simultaneously. And any of the Coffin Ed and Gravedigger novels open up a world that feels barely hang on to sanity.
Q) What were your childhood/teenage favourite reads?
A) Very early on, I discovered The Hardy Boys, but then quickly found the even better Three Investigators series, which featured Alfred Hitchcock, for some reason (who gave the boys a free limo service), and Jupiter Jones, former child star turned boy detective. These guys had a clubhouse in a junkyard.
I also really like Encyclopedia Brown, even though I could never actually solve those goddamned mysteries.
Q) What has been your favourite moment of being a published author?
A) I was invited to Italy for a conference! Back in 2011, my novel YELLOW MEDICINE was translated into Italian, and I attended a festival in Northern Italy—Piacenza—that combined blues music and crime fiction. It was really wonderful. I also got to meet Tim Willocks, RJ Ellory, and Joe Lansdale, in addition to the owners of Dust to Digital record label, the Ledbetters, who do some really neat work.
Q) Who has been your source of support/encouragement, throughout the writing process?
A) In addition to my wife, Brandy, who loves my work but thinks all my endings are terrible, my core "crew" has been longtime friends Victor Gischler and Sean Doolittle, who I've known for nearly twenty years. We share the good times and the shitty times in our writing lives. I also would not be where I am today without Allan Guthrie, who has been, at various points, my agent, my publisher, and my editor (and friend, of course) for over ten years now. He's the one person in publishing who has championed and believed in my work more than anyone else.

Anthony Neil Smith
Authors links:
Twitter: @anthonynsmith
Goodreads: https://www.goodreads.com/author/show/650597.Anthony_Neil_Smith
Amazon: https://www.amazon.com/Anthony-Neil-Smith/e/B004FRQDDW/ref=ntt_athr_dp_pel_1
*Thank you for taking part in the Q&A on my blog, I wish you every success with your writing career.
Share this:
Like this:Like Loading...