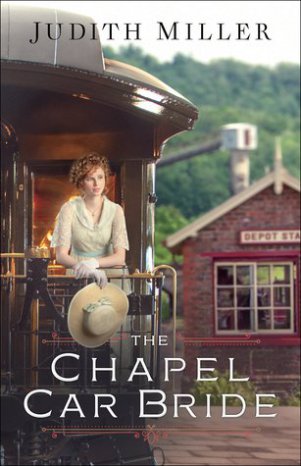 The Chapel Car Bride
Written by: Judith McCoy Miller
Publisher: Bethany House Publishers
Month, Year: April, 2017
Amazon | CBD | B+N
A brief summary from Judith McCoy Miller:
Hope Irvine always sees the best in people. While traveling on the rails with her missionary father, she attracts the attention of a miner named Luke and a young mine manager. When Luke begins to suspect the manager is using Hope's missions of mercy as a cover for illegal activities, can he discover the truth without putting her in danger?
My Thoughts:
Finally succeeding in convincing her father to let her join the mission field, Hope Irvine boards the missionary railcar and heads to the hills of West Virginia. When their railcar is waylaid in a small miner's town, Hope's father takes the time to minster to the people there. But quickly they learn that the small town is riddled with tension and unsavory actions. Believing God led them to these hills for a reason, Hope and her father work to befriend the folks and minster to the surrounding neighbors. When a handsome miner, Luke Hughes, takes interest in their ministry, Hope begins to find herself falling for his charm. But when they stumble upon illegal activities going on in the town, will their young friendship survive whats to come?
Strangely enough, I enjoyed this historical information of this novel more than the romance – which is an oddity for me as I normally enjoy the romance aspect more! The idea of a railcar ministry was quite fascinating. I had never heard of missionary railcars before reading this novel and think that it is such a cool concept! Overall, The Chapel Car Bride is a sweet, inspirational read and should be added to your TBR list!
I was graciously provided a free copy of this novel from NetGalley and Bethany House Publishers in exchange for an honest review.  I was not required to write a positive review and the opinions I have expressed are my own. 
Advertisements Share this:
Click to share on Pinterest (Opens in new window)
Click to share on Google+ (Opens in new window)
Click to share on Tumblr (Opens in new window)
Click to email (Opens in new window)
Share on Facebook (Opens in new window)
Click to share on Twitter (Opens in new window)
Like this:Like Loading...