"Waiting On Wednesday" is a weekly meme originally hosted on Breaking the Spine but has since linked up with "Can't Wait Wednesday" at Wishful Endings now that the original creator is unable to host it anymore. This is a great way to share upcoming released you're excited about!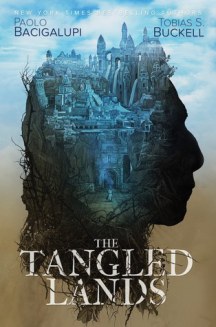 I've never read a book by either Paolo Bacigalupi or Tobias S. Buckell but this one seems like it would be a great place to start. The Tangled Lands seems to be the perfect fairy tale fantasy with a bit of extra kick. The use of magic is destroying the world, there's a tyrant abusing power and then a good ol' fashioned people's uprising. I would like to note that this is actually a set of four interconnected short stories rather than a single narrative which is pretty cool. This will be released February 28, 2018 for those interested!
Advertisements Share this:
Like this:Like Loading...