Below are my thoughts on my March Reading Challenge choices…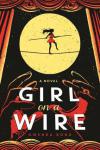 Girl on a Wire: The cover is fantastic! Eye-catching and immediately conveys what the story is about. Absolutely loved it. Really enjoyed the story too, although I read it a long time ago and, unfortunately, didn't take notes. (When I read, I often take notes on my phone's note app. How about you? Do you take notes on the books you read?) This was a circus redux of Romeo and Juliette (the main character is Jules; her love interest is Remy). Fun fact I remember: the MC is a tight rope walker who idolizes Bird Millman, a real life high-wire performer who toured with Barnum & Bailey/Ringling Brothers back in the day.
Caraval: This was exactly what it was pitched as (The Night Circus meets The Hunger Games) with one caveat – to me, the feel of it (tone, style, etc.) was more similar to Kiera Cass' The Selection. Initially, I put this book on hold at my library, but it took a while to come in so I bought the digital version for my Kindle. Then, when I was only a couple of chapters in, the print version arrived at the library for me, which gave me a chance to compare the two. (I've been doing more of that lately – reading two different versions of a book at the same time. Do any of you do this? I talk to a lot of readers who go back and forth between print and audio versions, depending on whether they're in the car or not.) My thoughts? Formatting matters. This is a book with lots of letters and a map. Best to experience it in print!