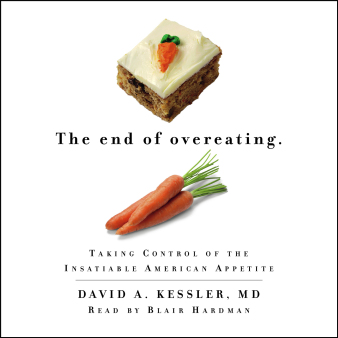 Format: Audiobook
Source: Public Library
Rating: 3.5
Another book about having a plan before the situation. Have an if/then plan for food.
This book was about the engineering food.  How scientist figure up was to infuse the food with more flavor, find the perfect mouth feel and the wow factor.  Food now is easier to chew.  We have to do so much less work to get our fill of calories compared to our ancestors.
Food companies try to make it as tasty as possible because there is only a certain amount of money in the  "share of wallet" that business are after.  Business are in the market to get you to stop in, get you to love their product and to get you to continue bringing your money in.
The book is mostly about how we are fighting our brains as scientist have figured out what feels good to our brains in food.  So overeating is a hard battle.  The last quarter of the book is techniques on ways to try to change your programming.  Kessler does not at any point say it will be easy.  We are after fighting food on many fronts.
Advertisements Share this:
Click to share on Twitter (Opens in new window)
Share on Facebook (Opens in new window)
Click to share on Google+ (Opens in new window)
Like this:Like Loading... Related