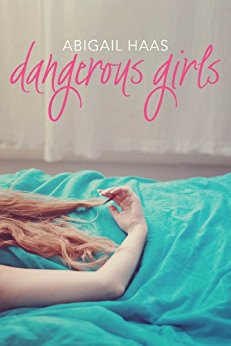 It's Spring Break of senior year. Anna, her boyfriend Tate, her best friend Elise, and a few other close friends are off on a debaucherous trip to Aruba that promises to be the time of their lives. But when Elise is found brutally murdered, Anna finds herself trapped in a country not her own, fighting against vile and contemptuous accusations.
As Anna sets out to find her friend's killer, she discovers hard truths about her friendships, the slippery nature of truth, and the ache of young love.
As she awaits the judge's decree, it becomes clear that everyone around her thinks she is not just guilty, but dangerous. When the truth comes out, it is more shocking than one could ever imagine…
Amazon | Barnes & Noble | Books-A-Million | Book Depository
This is the first time I've ever read a book by Abigail Haas and I have to admit that I thoroughly enjoyed her writing. I'd like to thank Rivetedlit for supplying me with a free ebook on their website.
"Wouldn't we all look guilty, if someone searched hard enough?" 
The story starts out with seven friends going on spring break their senior year of high school. Naturally, they decide that Aruba would be a great spot to vacay and one of their friends' father happens to own a home there. Honestly, I related more to Melanie when it came to what the other friends were doing. I did not go out and party and drink and do drugs. So it was interesting to see that perspective even though I was cringing inside. It starts out with a 911 call before we even get to meet any of the characters. From there, there's flashbacks between the past and present in Anna's point of view.
The seventeen year old is on trial for her best friend's murder and the lead detective is pretty incompetent at his job, ignoring other facts to put the blame on our beloved main character. I honestly didn't know who to route for, they all could have been guilty if you squinted.
"But us? We're forever." 
The friendship between Elise and Anna weirded me out. At one point, Elise was jealous that Anna was spending time with her boyfriend, Tate, and even accused her of not loving her anymore and destroying their friendship. There were countless times where Anna stated that they were like sisters and then Elise would do something to make you think that she wanted something more. This is the girl who kissed her friend three times while Anna was grieving. Don't even get me started on the fact that she later hooked up with Tate while he was dating Anna.
"The curtain's down now, but I won't forget so easily. The performance never ends." 
In the end, everything's just an act. The real killer is more or less hinted at. Had this been a movie – I really feel like this should be made into a Lifetime movie – and I had blinked, I would have missed the killer. It was ever so subtle and still makes no sense to me given that there was no evidence for her to have done it. If someone was stabbed thirteen times, youvan bet that there would have been blood elsewhere in the house.
"We could have still been together, if only she'd been true to me. If only she'd known what she was bringing on herself, maybe she would have thought twice."
Share this:
Like this:Like Loading...